DroneClash welcomes UK's Jason Bradbury as host and presenter
Countdown
Just ten days to go until the DroneClash battles commence! At the time of writing, nine teams from five different countries are adding the finishing touches to their feisty fighters and majestic Queens. And while these drone developers and pilots psyche themselves up for this make or break competition, the DroneClash crew is busily working behind the scenes to make the carnage run, err, smoothly.  New to the DroneClash crew in 2019, is Jason Bradbury, who will taking on the the important job of commentating.
Commentary on the fly  
For the uninitiated, the sheer speed of events in the  DroneClash arena can take some getting used to. Luckily Jason will be on hand as presenter to interpret the ducking, diving, soaring and flooring that can be expected on 16th March and get the audience excited as we progress towards the high stakes (€50,000 of prize money, no less!) final clash.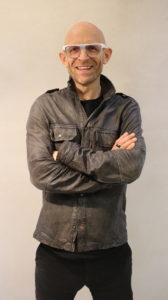 Inspector Gadget
For UK-based followers of DroneClash, Jason Bradbury is a man who needs little in the way of introduction. His bespectacled face was a familiar site on British TV screens for over a decade. Bradbury was not just on Channel 5's "The Gadget Show", he was the "Gadget Show". His enthusiasm for technology and the engineers and scientists behind it is infectious.
Since leaving the show in 2016, Jason has continued to pursue his passion for tech. Nowadays he uses the platforms of YouTube and Twitter to share reviews and test out ideas, growing tens of thousands of followers in the process.
Drone's eye view
Jason Bradbury is no stranger to drones. He's been following them since the very start. At home he owns a simulator, although he claims to be "not very good" at FPV.   But it's outside the home that drones come into their own for Jason.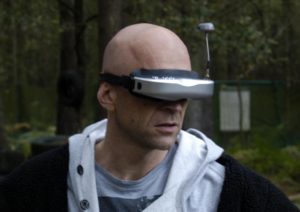 In 2018, Jason sold his house, bought a camper-van and embarked on a  life-changing round-the-world trip with his wife, three children and his DJI Maverick Pro. The drone helped him capture the natural world on camera – everything from sharks in Byron Bay, to the rainforests of Southeast Asia.
The experience not only gave Jason a stock of awe-inspiring film-footage, it also gave him an insight into the raft of rules and regulations facing drone pilots in different countries. He describes some of these as "really, really tricky" . He's therefore excited to be involved in DroneClash, which he sees as a really positive step forward in finding a technological solution to the challenge of rogue drones, as experienced at Gatwick, Heathrow and Newark airports over recent months.
The sky's the limit!
Jason is drawn to drones because for him they are "quintessentially futuristic". These small scale flying machines open up the possibility of using flight for a wide variety of applications beyond air travel. While some might say the sky's the limit, Jason Bradbury prides himself in thinking differently. Indeed, in a recent YouTube video he came up with a whole new application for drones…
Droneboarding
As a dedicated bodyboarder, Jason decided to combine his love of the surf with his interest in drones. In this YouTube video you can see Jason testing the boundaries of an eight motor quadcopter designed to deal with his 70 kg payload.  Against all odds, the drone succeeds in towing Jason out to the waves of a Cornish bay, positioning him on a wave and then letting him enjoy the ride.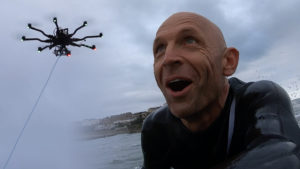 Whether he will have time to repeat the stunt off the coast of Katwijk, I'm not sure, but we are certain that this the drone-loving Jason Bradbury is going to do a great job as presenter. Jason says:
"As both a huge fan of drone technology and a drone pilot I'm really fascinated to see what the innovations in counter drone tech are capable of. Expect thrills, spills and expert flying action. Hope to see you there!"
Join us at the DroneClash arena on March 16th 2019. Get your tickets now!
Flyin' Amber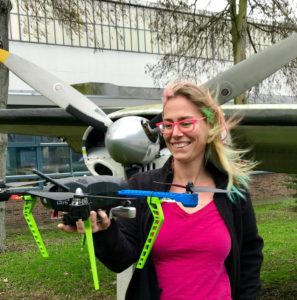 Flyin' Amber is the pseudonym of DroneClash's event manager – our very own Amber Marijs. With a degree in aeronautics and a career that has involved rollercoasters and scaffolding, Flyin' Amber has always been excited by things that fly and things that are, mmmm, high. Just like drones.
Over the last five years, Flyin' Amber has become something of a drone expert thanks to the infectious enthusiasm of her drone-designing and flying friends at TU Delft's MAVLab. In 2018, Amber was able to put her enthusiasm into practice by helping organise the first ever DroneClash. This year she is dedicated not only to making DroneClash 2019 bigger and better but also spreading the news of counter-drone developments through these blog posts.  Come back for more!