Never mind Gatwick. Come to DroneClash at Katwick! Sorry, Katwijk.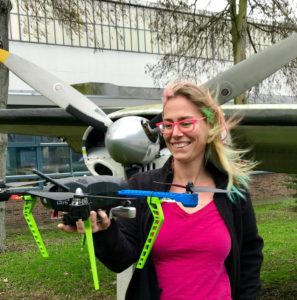 Hi! My name is Flyin'Amber. Over the next couple of months I am going to be relaying to you the latest and greatest in counter-drone news and technologies. I'm going to building up to the pinnacle of counter-drone events on March 16th 2019… DroneClash!
Gatwick Incident: less DroneClash than a total drone hash
Flyin'Amber by name, and frequent flyer by nature. I am used to flight delays. Bad weather, airline strikes, technical faults. But just before Christmas at Gatwick airport in the South of England, travellers experienced a novel breed of delay:
"We are sorry to announce that flight EJ666 is delayed due to…. drones."
The impact was vast. Gatwick airport was shutdown multiple times between 19th and 21st December. The incident affected an estimated 1,000 flights and 140,000 passengers, many of whom were trying to return home or visit family and friends for the Christmas break. The incident was branded a "deliberate act of disruption", rather than terrorism.  And while this drone incident was disquieting and disruptive, there was also a widespread sense of incredulity. How could these tiny and easily available pieces of technology cause such widespread disruption? How was the airport not better prepared? Why couldn't the Sussex police take decisive action?
As events unfolded in the South of England, a short distance over the Channel in Delft, South Holland, I watched on –  utterly incredulous. You see, for the last few years, the threat of nefarious drones, has been my raison d'être. DroneClash – a sort of Robot Wars in 3D – was thought up as a fun way to stimulate counter drone technology. If society wants to enjoy the benefits of drones – whether it be for medical purposes, logistics or leisure – we also need to be able to police malevolent drones. But things were moving fast. Suddenly theory was becoming reality. Bart Remes, the brains behind DroneClash, was invited on the BBC to discuss the technical challenge of safely bringing down enemy drones.
Drone Disruption: should have seen it coming?
Accurate reporting on the Gatwick incident has been somewhat patchy. Some media have even questioned the very existence of the flight-disrupting drones.  However, one thing that has been made very clear, is that the event should not have come as a surprise. The UK Airport board, which monitors air safety, reported 117  events involving drones and aircraft in 2017. Worldwide such incidents are also on the rise. At the end of 2018 a 737 jet was badly damaged after a suspected drone collision on its approach to Tijuana, Mexico.
Dutch Ministry of Defence and Police welcoming International Solutions
The Dutch Ministry of Defence and Police recognise the magnitude of the challenge. This is why they have chosen to sponsor DroneClash 2019. While law enforcement on land and at sea is bread and butter for the Dutch Police, drones are not the usual suspects. Regularly weighing in at under a kilogram, travelling at speeds of up to 200 km/hour and often undetectable by conventional radars, they are the source of a catalogue of policing headaches.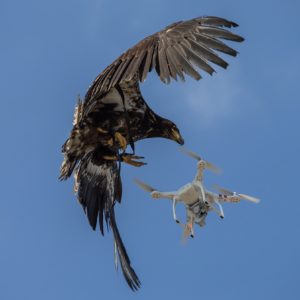 Not to be defeated, in a typical demonstration of Dutch pragmatism and problem-solving, the Police decided to put some (imperfect) solutions to the test. This has famously included using bald eagles as drone interceptor. With their excellent long-range vision which enables them to spot rabbits at a distance of 5 km, their acrobatic swooping skills and their razor sharp talons, bald eagles proved to be a promising solution. But getting birds of prey fully engaged in an organisation is something else! There is still a need for a technical and scalable solution and it most likely needs to combine clever software with easy-to-use hardware. As with most tricky engineering and science problems, collaboration is key…hence DroneClash
All the evidence from 2018 showed that there is much more work to be done. We are inviting drone hobbyists, FPV fiends, micro aerial vehicle researchers and anyone else who has a great drone defeating idea they want to put to the test to DroneClash on 16th March in Katwijk, the Netherlands. Come and join in the fun. It might not be pretty, but it sure will be spectacular.
Enter here: https://www.droneclash.nl/teams/ by 31st January 2019.
About Flyin' Amber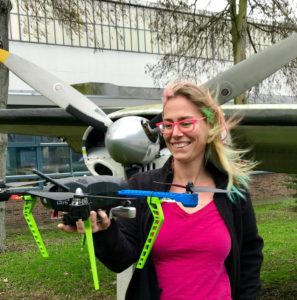 Flyin' Amber is the pseudonym of DroneClash's event manager – our very own Amber Marijs.  With a degree in aeronautics and a career that has involved rollercoasters and scaffolding, Flyin' Amber has always been excited by things that fly and things that are, mmmm, high. Just like drones.
Over the last five years, Flyin' Amber has become something of a drone expert thanks to the infectious enthusiasm of her drone-designing and flying friends at TU Delft's MAVLab. In 2018, Amber was able to put her enthusiasm into practice by helping organise the first ever DroneClash. This year she is dedicated not only to making DroneClash 2019 bigger and better but also spreading the news of counter-drone developments through these blog posts.  Come back for more!