They're the youngest, they're the fastest, they're the most fashionable… It's team Speeddrones!
Speedy Gonzales
When I speak to Bart van Maarle one Friday afternoon, he's pushed for time. This Flying Dutchman and head of team
Speeddrones
is in a rush. Speedy by name, speedy by nature. After all Speeddrones is not just his DroneClash team name, it's also his bread and butter.
The height of fashion
Bart van Maarle set up his drone business, Speeddrones back in 2017. In addition to a successful webshop, Bart offers his services as a drone designer, drone maker, drone pilot, drone salesman… The list goes on. From making drones strut their stuff on the catwalk, to helping drone startups break into the global market, if you have a drone-related idea that you want to make a reality, Bart is the man to go to.
When I ask about his team's approach to DroneClash, he won't give much away. With one exception: battle talk. Speeddrones' opponents should be warned. They will be in "in big trouble" when they encounter specially-designed drones which he claims to be "indestructible". While the plywood prototype drone you see on Speeddrone's Top Bump card doesn't yet look the part, but its name – the Killer Plank – gives a wink and a nod to this team's deadly intentions.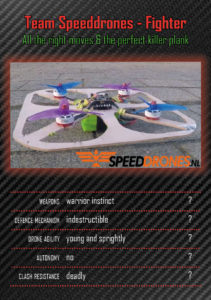 Young upstart
Rival teams will also have to reckon with Speeddrones' flying skills. Joining Bart at DroneClash is Bram van Esch and Andreas Klein (AKA warrior 1 and warrior 2). Bram is an old-friend, and a go-to person for electronics. Andreas is something of a teenage prodigy. Bart first spotted him a year ago at a
drone demo at Hilversum
. Then, aged just 14, his drones tended to floor rather than soar. A year later, Bart couldn't keep up with this young upstart.
Between the promise of youth, the determination of a budding entrepreneur and their confident battle-talk, something tells me that team Speeddrones is one to watch. Join me on March 16th in Katwijk, the Netherlands to find if they live up to the hype!
Flyin' Amber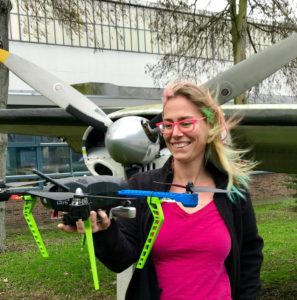 Flyin' Amber is the pseudonym of DroneClash's event manager – our very own Amber Marijs. With a degree in aeronautics and a career that has involved rollercoasters and scaffolding, Flyin' Amber has always been excited by things that fly and things that are, mmmm, high. Just like drones.
Over the last five years, Flyin' Amber has become something of a drone expert thanks to the infectious enthusiasm of her drone-designing and flying friends at TU Delft's MAVLab. In 2018, Amber was able to put her enthusiasm into practice by helping organise the first ever DroneClash. This year she is dedicated not only to making DroneClash 2019 bigger and better but also spreading the news of counter-drone developments through these blog posts.  Come back for more!