Boom, Boom(sma) shake the room! Introducing team QEptains
Frustration as the mother of invention
Many great ideas are borne of frustration.
QuadcoptersEnzo
is no different. This webshop for all things drones came about when former electrical engineer,
Pieter
Boomsma had a poor online shopping experience.
In an effort to enhance his DJI drone (which he had found "a bit boring"), he wanted to buy some new parts. What he got was abysmal service and shoddy parts.The experience was so bad, that
Pieter
 was forced to threaten legal action to simply get the drone parts for which he had already paid.
"Mmmm…. I could do much better myself," thought
Pieter
. And boom! This was the beginning of Quadcoptersenzo – his drone business based in Friesland in the north of the Netherlands.
Business is booming
At first it was just
Pieter
Boomsma, his electronics knowledge and his good business sense. Now a few years on, Boomsma's webshop is, well, … booming. He is now taking on interns to help with the vast volume of orders, 50 per cent of which are from outside of the Netherlands. High school student Dennis Mennema and recent school leaver, Luuk Treffers, are currently learning the ropes of Quadcoptersenzo. These teenage FPV racers are also set to play an integral part in the team which Quadcoptersenzo will field at DroneClash in a few weeks – team QEptains – which will also feature Ralph Hogenbirk and
Niels Meerdink
.

Winging it? Or winning it?
At the time of interview,
Pieter
, Dennis and Luuk weren't giving much away about design or strategy. By their admittance, they are not so prepared. Winging it, you might say.  But no problem. According to
Pieter
, team QEptains still has approximately 100 man hours ahead of the event. They will spend this time building their fighter and queen drones which will be informed by the experience of DroneClash veteran Niels Meerdink. In 2018,
Clearflight Solution's
Niels was part of the victorious
Laced Horns
. This year, with team Laced Horn having disbanded 30,000 Euros the richer, Niels will fly with QEptains.
Can this former champion prepare QEptains  for the battle grounds of the DroneClash 2019? Will
Pieter
Boomsma and his teenage interns be clash-ready on March 16th? Come and join me and the DroneClash team on March 16th in Katwijk. Tickets are still available
here
.
Flyin' Amber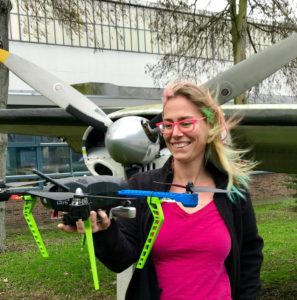 Flyin' Amber is the pseudonym of DroneClash's event manager – our very own Amber Marijs. With a degree in aeronautics and a career that has involved rollercoasters and scaffolding, Flyin' Amber has always been excited by things that fly and things that are, mmmm, high. Just like drones.
Over the last five years, Flyin' Amber has become something of a drone expert thanks to the infectious enthusiasm of her drone-designing and flying friends at TU Delft's MAVLab. In 2018, Amber was able to put her enthusiasm into practice by helping organise the first ever DroneClash. This year she is dedicated not only to making DroneClash 2019 bigger and better but also spreading the news of counter-drone developments through these blog posts.  Come back for more!