Murica First?
All the way from the United States of America introducing team… Murica!

Model students
Peter Sripol and his side-kick, Sam Foskuhl, have been flying their aerial creations since they were kids. Since high school, these Ohio makers have created planes to fly in model aircraft combat competitions, perfecting their designs and sometimes even winning. The question is whether team Murica can repeat their early success and win DroneClash's first prize of €30,000 on March 16th? There is much to suggest that DroneClash's first American team could be odds-on favourites.
YouTube FPV daredevils
First up: flying skills. Accompanying Peter and Sam will be three FPV daredevils hailing from Ohio, California and Georgia:  Ummagawd (AKA Tommy Tibajia),  StingersSwarm (AKA Kevin) and Synman95 (AKA Clay Payne). Take Ummagawd for instance. This free-styling Calfornian drone pilot has made a career out of his aerial acrobatics, earning FPV superstar-status and more than 40,000 followers on YouTube.  If the nose-diving angles and precision pullouts he displays in team Murica's promotional video are anything to go by, OMG, DroneClash opponents have something to reckon with!
Making ideas fly
Next up: creativity. Peter and Sam have come a long way since their teenage triumphs.  The pair are best described as professional tinkerers. They run their own "make workshop". It's here that their whacky flying machines are dreamt up and built. Machines that have been tested at NASA, no less. Machines that feature on Peter Sripol's YouTube channel, like his (manned) drone in the form of a Santa Sleigh or his KFC bucket aeroplane .
DroneClash battle plan
Finally: battle plan. For team Murica, piloting skills will be key – especially in navigating the Hallway of Doom, Death and Destruction and dodging the best efforts of their rival. But so will the construction of their drones. Peter talks vaguely about "using the material in the right place" and also about "a couple of different defences" including their intention to shroud their Queen. But for all their casualness, these are not the kind of guys to just wing it. Peter and Sam have gathered their intelligence. They've studied the videos and read the write-ups of DroneClash 2018 in an effort to determine the best strategy for 2019. I can't wait to see the results.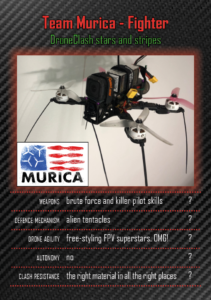 Will you join me in welcoming Peter Sripol, Ummagawd and the rest of team Murica enter the arena on March 16th? Get your DroneClash 2019 tickets here.
Flyin' Amber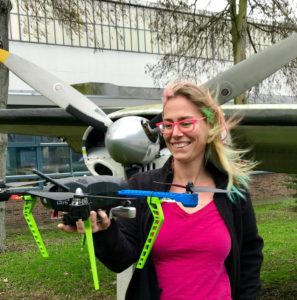 Flyin' Amber is the pseudonym of DroneClash's event manager – our very own Amber Marijs. With a degree in aeronautics and a career that has involved rollercoasters and scaffolding, Flyin' Amber has always been excited by things that fly and things that are, mmmm, high. Just like drones.
Over the last five years, Flyin' Amber has become something of a drone expert thanks to the infectious enthusiasm of her drone-designing and flying friends at TU Delft's MAVLab. In 2018, Amber was able to put her enthusiasm into practice by helping organise the first ever DroneClash. This year she is dedicated not only to making DroneClash 2019 bigger and better but also spreading the news of counter-drone developments through these blog posts.  Come back for more!