Team A3T: They'll be back (and this year, no hack attack)
Comeback kids
Team A3T is hoping to make something of a comeback at DroneClash on March 16th.  In 2018 their dreams of DroneClash victory were dashed. Instead of looping the loop and ducking and diving, the Aerobatic Twente Tech Team's drones spiralled inelegantly to the ground. Crash! Their opponents' surprise use of hacking had put a premature end to their airshow.
Bigger and better for DroneClash 2019
A year later and a whole lot wiser, the team from the Netherland's University of Twente is back with a vengeance.  Boosted by five new team members, the team comprises Masters students hailing from India, Switzerland Syria and Sint Maarten, who are being mentored by DroneClash second-timer, Gabriel from Canada.
A well-oiled machine
This bigger and better team looks to be professional in its set up. Tasks have been divided amongst the group according to individual expertise, with subgroups focusing on hardware, software and team promotion. Not to neglect the acrobatics, of course. Canadian, Gabriel, is a polished pilot. Although self-taught, he has many hours of flying practice, having joined FPV races  and worked as an UAV operator for a startup.
The team currently spends a minimum of 5 or 6 hours a week on the project, trying to squeeze in as much DroneClash prep time as possible, alongside their busy study schedule. For this is a team which is in DroneClash for the learning experience.
Radhika Kapoor, a Creative Technology student from Switzerland typifies the knowledge-hungry attitude of the team. She enthuses:
"I saw an ad on Facebook. It was something along the lines of 'Learn how to build drones, fly drones and crash drones' and I thought, how cool is that? So here I am… It's been fun figuring how how to build drones and understanding what goes where. "
What about flying? Radhika laughs: "Yeah, flying is harder than it looks. First time I tried, I crashed!"
Industry links
Luckily, good relationships with local industry mean that A3T can test their creations without having to travel far. They can just pop over the road to the grounds of a local fibre engineering company, Fiberneering.The same company is also supplying the team with materials. And quality materials are key to A3T's strategy this year. By their own admittance, they are going for brute force. What that means in practice, they're not saying, but it's clear that carbon fibre and ergonomics will play a major part.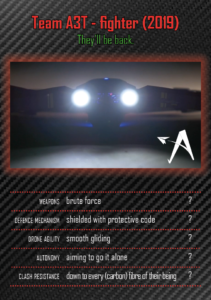 Going it alone
But just how A3T is defending against a repeat hack-attack, I'm not sure. Suffice to say that the team has invested time and effort in protective coding. In fact so confident are they that they won't be hacked, that they are aiming for a bit of one-upmanship: namely autonomous drones.  I can't wait to see that idea take off. Want to join me on March 16th? Book your tickets here.
Flyin' Amber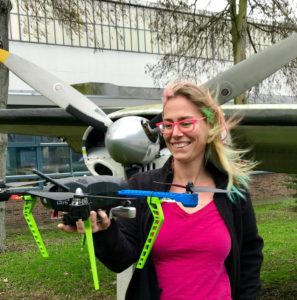 Flyin' Amber is the pseudonym of DroneClash's event manager – our very own Amber Marijs. With a degree in aeronautics and a career that has involved rollercoasters and scaffolding, Flyin' Amber has always been excited by things that fly and things that are, mmmm, high. Just like drones.
Over the last five years, Flyin' Amber has become something of a drone expert thanks to the infectious enthusiasm of her drone-designing and flying friends at TU Delft's MAVLab. In 2018, Amber was able to put her enthusiasm into practice by helping organise the first ever DroneClash. This year she is dedicated not only to making DroneClash 2019 bigger and better but also spreading the news of counter-drone developments through these blog posts.  Come back for more!