Spinfast: the team with the global solution for rogue drones
Spinfast is a team put together by drone-entrepreneur, Martin Bennat. 40-year old Martin is a drone-enthusiast who enjoys nothing more than a challenge. Back in 2017 he set his mind to staging a drone-race. Not in some Dubai desert but in in his own backyard: the north German city of Hannover.
Drone business takes flight
As he embarked on his quest to bring drones to the city, Martin expected an element of resistance. To his surprise, the reaction he got was largely positive. The local authorities embraced the idea of a drone event. The lively "underground" (or should that be "overground"?) drone scene welcomed Martin into their fold. The resulting fair attracted 44 drone companies. It proved to be the launchpad for the business Martin runs today: Spinfast. It's a marketing and networking platform for individual drone racers and enthusiasts.
Cross-border team with flying skills supreme
The DroneClash Spinfast team brings together an eclectic mix of personalities and skills. First up, there's the engineer and extrovert of the team, Hannover-based Kay FPV. Secondly, there's Dennio FPV, from the Netherlands, who describes himself as "a born rebel" and finally, Torpedo Tom, whose name says it all. This energetic German combines top-flight drone-piloting with a love of crazy stunts. When he's not flying his drone around industrial wastelands, Torpedo Tom can be found on his BMX, riding motor cross or participating in Red Bull races.
Ready to bounce back with Graupner DroneBalls
Flying skills are not something team Spinfast lacks. The trio's YouTube videos make
this clear. But how will they defend against the aggressive attackers of the DroneClash arena? To put something of a spin on in, team Spinfast has what you might call, an all round solution: DroneBalls. These spherical drones, designed by German company Graupner, were conceived as a way to help beginner fliers. A geodesic ball houses the drone and buffers it from impact. In Martin's words, if it falls from the sky, it simply "bounces a bit."
The Spinfast team plans to make some (unspecified) modifications to the DroneBalls to get them battle ready. Question is: can they manage to keep all its balls in the air? Time for some crystal ball gazing…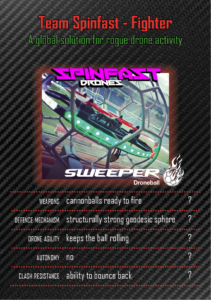 Or alternatively just book tickets to see Spinfast in action at DroneClash on March 16th.
Flyin' Amber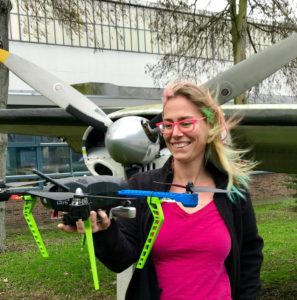 Flyin' Amber is the pseudonym of DroneClash's event manager – our very own Amber Marijs. With a degree in aeronautics and a career that has involved rollercoasters and scaffolding, Flyin' Amber has always been excited by things that fly and things that are, mmmm, high. Just like drones.
Over the last five years, Flyin' Amber has become something of a drone expert thanks to the infectious enthusiasm of her drone-designing and flying friends at TU Delft's MAVLab. In 2018, Amber was able to put her enthusiasm into practice by helping organise the first ever DroneClash. This year she is dedicated not only to making DroneClash 2019 bigger and better but also spreading the news of counter-drone developments through these blog posts.  Come back for more!