From the Silicon Valley of Switzerland…Team Bluff
Chocolates, cheese and…drones
Switzerland. World-famous for its Alpine landscapes, chocolate, cheese and …. drones.
It may sound surprising that this small landlocked country is something of a world-leader when it comes to drone innovation and technology but it is no anomaly.  World-class universities, an innovation-friendly approach to regulation and a vibrant startup culture, means that there are now more than 70 companies (and counting) working in the field of drone technology. Small wonder that Switzerland is rapidly becoming the place to be if you live in Europe and work in drones!
It is from this so-called Silicon Valley of Robotics, that team Bluff emerges. The team is led by softly-spoken Geoffroy Le Pivain, a graduate of Institute of Technology in Lausanne. By day his team works at drone startup, Flyability. By night they enjoy FPV flying and the technical challenge of designing drones strong enough to endure multiple bouts in the DroneClash arena.
The Queen set to reign supreme
Arguably team Bluff has something of a head-start when it comes to durability. You see, the Queen drone they hope will reign supreme is based on Flyability's own Elios drone. Elios is a spherical drone featuring an external rotating cage which protects the drones' battery and propellers.  It was specially developed to enter industrial environments too dangerous for humans. Think of gas or oil storage tanks, or the aftermaths of an explosion.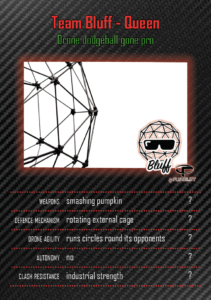 Team Bluff plans to pimp up Elios to make her battle-ready.  But even without these (undisclosed) modifications, it must be said, team Bluff has the makings of something mighty resilient. Take the testing regime Elios has already been through.  Gravel, sharp objects, apples, ping pong balls, beer bottles, you name it…. It has all been chucked her way in the name of endurance testing. Furthermore, ahead of the competition on March 16th, the team plans to simulate the DroneClash experience, by flying a drone into Elios at 50 km/h. All in the name of innovation, of course!
Rocket science
But as we all know, DroneClash does not just come down to defence, it's also down to the attack. Team Bluff seems confident in their approach. "We'll bring one or two agile rockets to do the job of the fighters", Geoffroy tells me casually.
Are they calling my bluff? Come and see how Geoffroy and team-mates perform in the hostile environment of the DroneClash arena on March 16th in Katwijk.
Flyin' Amber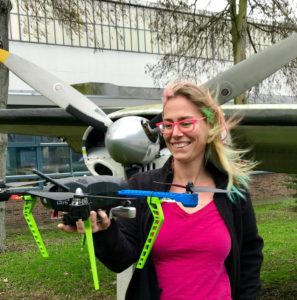 Flyin' Amber is the pseudonym of DroneClash's event manager – our very own Amber Marijs. With a degree in aeronautics and a career that has involved rollercoasters and scaffolding, Flyin' Amber has always been excited by things that fly and things that are, mmmm, high. Just like drones.
Over the last five years, Flyin' Amber has become something of a drone expert thanks to the infectious enthusiasm of her drone-designing and flying friends at TU Delft's MAVLab. In 2018, Amber was able to put her enthusiasm into practice by helping organise the first ever DroneClash. This year she is dedicated not only to making DroneClash 2019 bigger and better but also spreading the news of counter-drone developments through these blog posts.  Come back for more!