Second time lucky? The determination of team Dipol
Team Dipol is the Teutonic team with unfinished business. William Thielicke, Klaus-Peter Neitzke and Ruben Jubeh, runner-ups in DroneClash 2018, have invested in their return ticket to Katwijk's Hangar 2. March 16th 2019 is circled in their calendars.
 After having been defeated in 2018 by devilish Dutch rivals, the Laced Horns, this trio of drone-enthusiasts is in it to win it. And by "it", they don't mean the €30,000 in prize money (although that would be nice). For Dipol, "it" is more about the satisfaction of seeing their counter-drone ideas put to the test. And believe me, they have quite a few of these ideas up their sleeves!
But ask Dipol about their plan of attack and you won't get far. Attacking is not Dipol's style. In fact their motto is strangely pacifist in spirit: "Minimalinvasiver angriff"  (a play on the idea of "minimal invasive surgery") is roughly translated as "minimal invasive attack." So what can we expect? Keyhole conflict and homeopathic hostility? A soft landing for opponent drones?
Well those of you coming to DroneClash for the spectacle needn't be disappointed.  Dipol's approach is more about standing their ground (or should that be air space?) than shrinking to the sides of the arena. William Thielicke, a biologist with a special interest in flight, explains:
"What we learnt last year is that the three dimensional nature of DroneClash means it is really very difficult to make contact with other drones. Your opponents can move in all directions – and very quickly. We believe that by increasing the size and the strength of our drones, we have a strong chance of taking out the competition."
Take their prototype fighter drone, for example. Our Dipol Top Bump card reveals its impressive bulk. Measuring a substantial 400x300x100mm and weighing in at a bulky 600g, the theory is that this fibreglass-constructed drone will take down smaller aggressors with relative ease.
Beyond the impressive stature of their drones, William and his fellow UAV-enthusiast side kicks, are also hard at work developing secret mechanisms to be activated mid-clash. Despite fishing for details, William is keeping quiet. The team is eager to catch out their opponents and save an element of surprise for the day itself. Join us to on March 16th to see William, Ruben and Klaus Peter, going for gold.
Flyin' Amber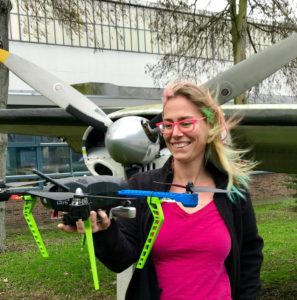 Flyin' Amber is the pseudonym of DroneClash's event manager – our very own Amber Marijs. With a degree in aeronautics and a career that has involved rollercoasters and scaffolding, Flyin' Amber has always been excited by things that fly and things that are, mmmm, high. Just like drones.
Over the last five years, Flyin' Amber has become something of a drone expert thanks to the infectious enthusiasm of her drone-designing and flying friends at TU Delft's MAVLab. In 2018, Amber was able to put her enthusiasm into practice by helping organise the first ever DroneClash. This year she is dedicated not only to making DroneClash 2019 bigger and better but also spreading the news of counter-drone developments through these blog posts.  Come back for more!