The rising stars of DroneClash 2019: Team Blue Phoenix
The Final Countdown
At DroneClash we're on countdown to D-Day! Ahead of Saturday March 16th, we want to give you a sneak peek into one of the teams that is already psyching itself up to do battle in the DroneClash arena. Introducing….Team Blue Phoenix!
Delft Blue Birds
Team Blue Phoenix is led by a confident Italian, Alberto Bonifazi and his sidekick, Jonathas Laffita van den Hove, a Cuban with a sunny-disposition. Together with six other Masters students from the Control and Simulation course at the Delft University of Technology, drones are a relatively  new interest for these engineers. Alberto explains:
"For our Bachelors thesis project we were challenged to create an autonomous
racing vehicle. My team won the final bachelor thesis competition with, what was basically, a race drone able to fly autonomously through gates. Since then, I have kind of caught the bug. I've enjoyed flying and crashing quite a few drones."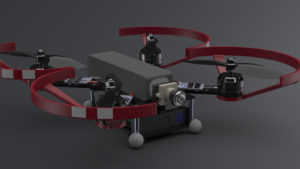 Jonathas, too, having designed a drone-like hover bike for the same thesis project, was inspired to get a bit more hands-on with drones.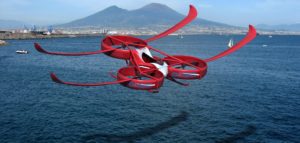 "I love the engineering challenge of  building and flying my own drones. I used to
think it was a very expensive hobby, but with the help of YouTube and my technical
background, I've been able to build a fairly good drone for around 200 Euros."
So we know the team is strong on design and innovation but what's their plan of attack? Alberto explains:
"Because we are new to flying drones, we are unlikely to be the best pilots in
DroneClash. So we fully intend to make up for this in precision weapons and clever defence mechanisms. We don't want to give everything away but suffice to say… we will be coming for your propellers!"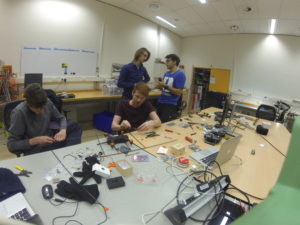 Cards up their sleeves?
Our Team Blue Phoenix Top Bump card gives a few clues as to what their Queen drone might look like. While she looks to be awkwardly angular, that weight of metal looks to be a fitting defence for the Queen of Hearts. The question is will she rise from the ashes and enjoy an afterlife?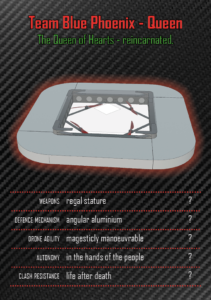 Come and find out at DroneClash. Register your team by 31st January here.
Or if you want to witness the fate of the Team Blue Phoenix's Queen, click here to purchase your arena-side tickets.
Flyin' Amber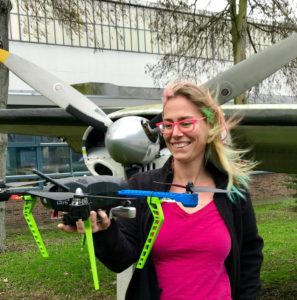 Flyin' Amber is the pseudonym of DroneClash's event manager – our very own Amber Marijs. With a degree in aeronautics and a career that has involved rollercoasters and scaffolding, Flyin' Amber has always been excited by things that fly and things that are, mmmm, high. Just like drones.
Over the last five years, Flyin' Amber has become something of a drone expert thanks to the infectious enthusiasm of her drone-designing and flying friends at TU Delft's MAVLab. In 2018, Amber was able to put her enthusiasm into practice by helping organise the first ever DroneClash. This year she is dedicated not only to making DroneClash 2019 bigger and better but also spreading the news of counter-drone developments through these blog posts.  Come back for more!